THANK YOU for purchasing two great eBooks to nourish mind, body and soul! We have some BONUSES below for you!
Life just doesn't get any better than treasured time TOGETHER with family and loved ones, and these two downloadable resources are perfect to nourish the mind, body and soul of yourself and those you love most!!!
In case you didn't do it already, click each image below to download the eBooks to save to your computer. We recommend saving them to your desktop for easy access.
(Also, please note that this information is copyrighted. Honor the authors by NOT sharing with others unless you purchased gift copies in which you should have put the appropriate email to send it to. To share the Black Friday sale, click the "SALE LINK" below and then copy the address from the browser to share.)
BONUS #1 – Free eBook "3 Keys You Need for a Stronger, Happier Marriage!"
Are you looking for ideas to strengthen YOUR marriage and deepen CONNECTION with your spouse?
If yes, please accept our free downloadable eBook gift to you (and other great email articles and tips):
"The 3 KEYS You Need for a Stronger, Happier Marriage!"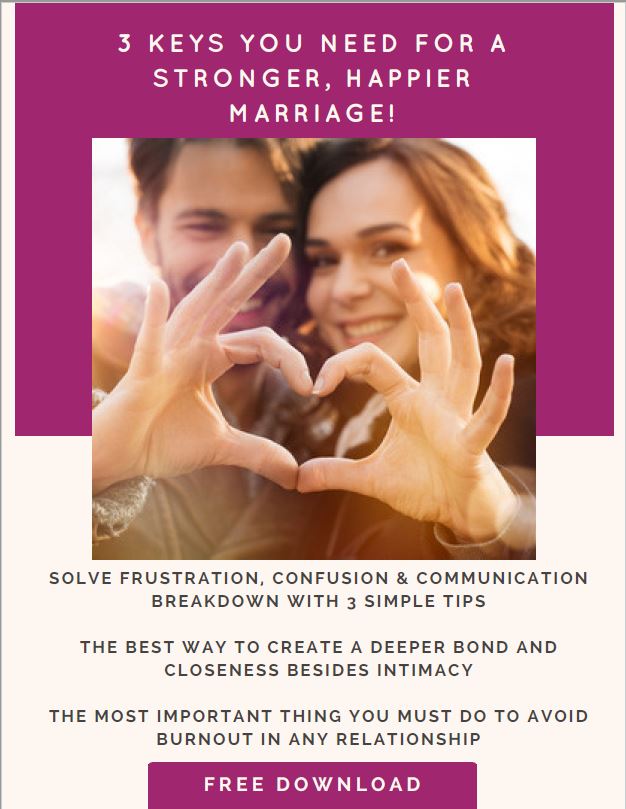 Click the Yes! button to claim your gift NOW!
BONUS #2 – Free 30-minute Mini-Coaching Marriage Makeover Call OR Life Coach Call
The earth creates beautiful makeovers with the changing of each season! Isn't it time you had your own MARRIAGE MAKEOVER?
Women often love pampering makeovers with hair cut and color, facials, new makeup colors, manicures and pedicures. They emerge from a makeover renewed, refreshed and rejuvenated. A Marriage Makeover Call can do the same thing for your marriage!
This free marriage makeover call is for those, like you, who want to take their marriage to the next level of connection and happiness and who believe their marriage is worth fighting for!
If your marriage fits in one of the categories below, and you would like some support, schedule your complimentary 30- minute call below!
The Rocky Type
You are not sure if staying in the marriage is worth it. The challenges and the stress of your marriage feel overwhelming. You have had thoughts of separation or divorce. You have considered or received counseling. Your relationship is hanging by a thread.
The Troubled Type
You are still in love but feel disconnected. There are many ups and downs in your marriage. You may know what some of the struggles are, but sometimes you can't quite put your finger on it. You feel a desire to receive extra support and guidance to find solutions that you need to strengthen your marriage.
The Blissful Type
You are deeply in love and grateful for this stage of your marriage. You've had the struggles that come with marriage but have weathered the storms so far. You are always open to resources and support to keep your marriage strong against the adversity that may come in the future.
I'm offering a few 30-minute Marriage Makeovers absolutely FREE!
But not for long so check out the details below and book your free 30-minute Marriage Makeover here!
I get what it's like to feel disconnected in a marriage. I felt that way for YEARS. I also get how it feels to be stuck and wonder what is missing and what I can do to improve my marriage – to get that old flame back or at least a spark back!
If you can relate and would like to take your marriage to the next level – upwards and positive that is – then spend this valuable time with me on a Marriage Makeover call. Together we can clearly identify what areas of your marriage relationship are holding you back from the stronger, happier and more peaceful marriage you would love to have.
One thing though…you have got to be SERIOUS about working on YOU and not thinking you have power to change your spouse. We only have control over ourselves, and that is what makes us so powerful and influential!
If you "get" the previous statement, then grab one of my limited spots now (please note- ONLY ONE BOOKING PER PERSON).
Also, this is NOT a sales call. If we want to look at working together then we can make another appointment for that.
During your Marriage Makeover:
✅ We'll go more than "skin deep" to find the areas of your marriage that are keeping you from the stronger, happier connection you deserve.
✅ We will discover the next best steps to elevate and BEAUTIFY your marriage relationship.
✅ 30-minutes 1-1 with Jennifer (valued $197).
Speak with you soon!
    Love and light,

Marriage Coach & Best-selling Author
"My marriage is great…but I could use help with something else!"
If this is you take advantage of a complimentary 30- minute Life Coach call!
This is NOT a sales call but can help give you clarity and direction with any of the following:
Clarifying and achieving personal and professional goals

Create healthy habits that lead to success

Feel empowered with self-compassion and confidence

Focused and present in each moment

Working to improve communication skills

Achieving a work/life balance

Advancing self-mastery

Improving family relationships
For your complimentary call, choose a man or woman Life Coach and book by clicking one of the coaches below.
BONUS OFFER #3 – A SIGNED COPY of the Amazon 5-star Best-selling Family Guidebook
Why are print books – especially signed with love – better than eBooks?
We love hard copy books and here are 5 great reasons why print books are better than eBooks:
1. Print books have pages that are nice and soft to the touch. Paper makes reading physically pleasurable. Reading an e-book, on the other hand, feels like using an ATM. And after staring at a computer screen at work all day, how relaxing is it to curl up at home and stare at another screen?
2. Print books are better at conveying information. A study reported in the Guardian last year found that readers using a Kindle were less likely to recall events in a mystery novel than people who read the same novel in print. So if you want to do things like follow plots and acquire information, print is the way to go.
3. You can write in the margins of a print book, dog-ear the important pages, and underline the key sentences with a pencil. E-books often allow the digital equivalents of these acts – but they just aren't the same. There is a link between physical gestures and cognition: the things we do to print books seem to help us to understand and remember better.
4. Print books are fairer to writers. The Author's Guild has been beating the drum for years that publishers give writers a lower percentage of the royalties for e-books. That makes it harder for authors to earn a living – and to produce new books. If you want to support writers, who are struggling these days, more than publishing giants – buy a print book. 
5. Print books are better for your health. A Harvard Medical School study last year found that reading a light-emitting e-book before bed interferes with your ability to sleep, with your alertness the following morning, and with your overall health.
(Tips from: https://www.huffpost.com/entry/drop-that-kindle-10-reaso_b_8234890)
Yes! I want a signed copy.
Get your hands on a beautiful copy signed with lots of love from the author. Only $20 shipping included. Only a few left!